This post contains affiliate links. Click here to see what that means!
In order to support our blogging activities, we may receive monetary compensation or other types or remuneration for our endorsement, recommendation, testimonial, and/or link to any products or services from this blog.
That being said, we only promote authors, products, and services that we wholeheartedly stand by!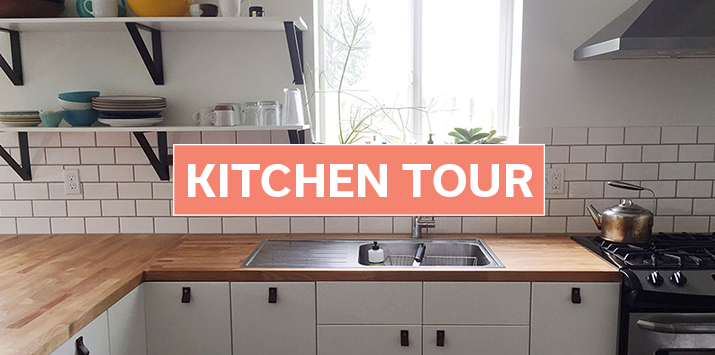 AIP Kitchen Tour is a monthly feature in which we profile a member of the AIP community and their kitchen setup in hopes that it will further inspire us to get our kitchens organized and set up for success! We've interviewed folks who are making the AIP lifestyle a reality in everything from college dorms and small city apartments, to large households with non-AIP family members, and everything in between. Through these interviews, we hope to share how they make it happen across a variety of budgets and living situations, and give the community a wealth of inspiration. Read more Kitchen Tours here!
Name: Annie McGinty
Location: Northern California
AI disease: Both Graves' disease and Hashimoto's disease
How long have you been eating AIP? Only since December 1, 2021

Have you successfully reintroduced any foods? Not yet. I'm going to wait until March 1st to start reintroducing any foods. I'm looking forward to this step!

How has the AIP changed your life? Before starting on the AIP diet, my biggest problems were brain fog, anxiety, insomnia, puffy face and fatigue. Since starting AIP, many of these symptoms have improved. Grocery shopping and meal prep are more of a planned operation. I spend time looking up AIP recipe ideas so that I can try to create meals that I truly look forward to eating, and I challenge myself to cook meals that my non-AIP family members and friends will enjoy as well.

Size of your AIP kitchen: Approximately 17′ x 20′
Favorite things about your kitchen:
Island prep sink
Plenty of counter space
Spice drawer
Abundant natural light

Least favorite thing about your kitchen: No upper cabinets
Are there any cheap gadgets or little tools that you have found make AIP easier?
4-cup mini food processor
Julienne peeler
Citrus squeezer
Soda stream
Immersion blender
What is the biggest thing that changed in your kitchen setup when you adopted the AIP? I have a dedicated AIP-friendly shelf in the fridge, an AIP-friendly shelf in our pantry, and my spice drawer has been rearranged to have one row of AIP-friendly spices.

If someone was just starting to invest in some useful but more expensive kitchen tools, which one would you tell them to buy first?
Blendtec or Vitamix type blender
Pressure cooker
Masticating juicer
Are there any tricks you have learned to make AIP work in your space? As mentioned above – just having a separate shelf in the fridge and in the pantry for AIP-friendly foods has been helpful.
How do you deal with food for family members that are not AIP? I am the only one in a family of five that is AIP. However, I am often cooking for the entire family.
First, I try to make AIP meals that I think everyone will enjoy. For the rest of my family, I'll throw on a pot of rice, regular noodles, or warm up some tortillas to accompany their meals.
For example, if we're having tacos for dinner, I'll make the meat, salad, and toppings AIP-friendly. But, I'll serve regular tortilla chips or brown rice on the side of my kids' plates. And, I'll just turn mine into a taco salad or use romaine lettuce to make AIP tacos. It's not too hard. My husband is mostly having what I'm eating, not because he needs to be AIP, but to be supportive.
Are there any tools or appliances that you've stopped using now that your diet has changed? Our Breville Espresso maker since I can't have coffee anymore 🙁
What are your favorite meals to batch cook?
Pulled Cross-Rib Roast or roast chicken (I'll make enough to keep in the fridge for a few days).
I also like making a double portion of salad and keep half of it undressed so that lunch meal prep is easier for a couple of extra days.
Asian slaw keeps really well in the fridge as well.
Naturally fermented fruit vinegar shrubs (I mix a couple of tablespoons of fermented shrub with carbonated water so that I can always have a 'fun' drink)
What are your favorite AIP and Paleo cookbooks? I don't actually have any AIP or Paleo cookbooks, but I do plenty of research on Instagram (#aiprecipes). I follow a few people who I think are continuously sharing reliably delicious, AIP-friendly meals!
Do you have any tips for those starting an elimination diet and setting up their AIP kitchens for the first time?
Always have easy to prepare foods available. These have become staples in my home:
lemons / limes (we have a few trees, so I always have a big bowl on the counter)
sauerkraut (several kinds)
cilantro bunches (great for garnish on salads, tacos, "wraps")
apple cider vinegar (I make fermented fruit shrubs)
prepped salads
prepped BBQ beef, roasted chicken, or pulled pork
marinated, shredded carrots (lightly marinated in olive oil and lemon juice)
Follow Annie's AIP journey on Instagram
Would you like to be featured in an AIP Kitchen Tour? We feature members of the community who are willing to share the real spaces where they cook, as well as their stories of transitioning to this lifestyle. If you are interested, fill out our interest form!