This post contains affiliate links. Click here to see what that means!
In order to provide the free resources here on the Autoimmune Wellness website and social media channels, we may accept a commission or other support for our endorsement, recommendation, or link to a product or service in this post.
That being said, we only promote authors, products, and services that we use ourselves and wholeheartedly stand by. To learn more about how we earn money here on Autoimmune Wellness, head on over to our Promotional Policy.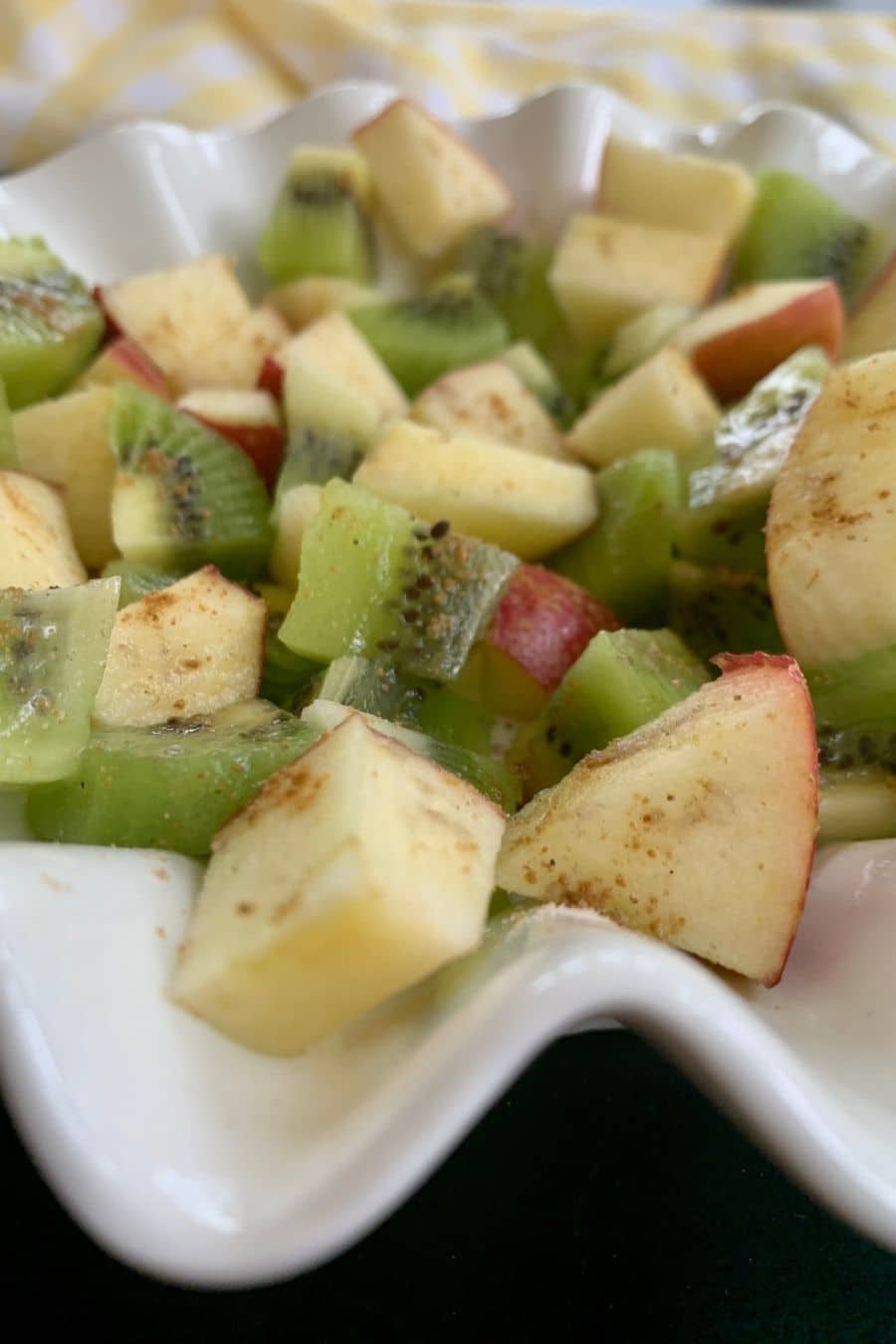 'Chaat' is an Indian term for food that is tantalizing to the taste buds. It incorporates a mix of flavors – spicy, sweet, tangy, as well as a mix of textures! Chaat is synonymous with street food in India however 'chaat' food is something you can try to recreate and make at home, too!
Since AIP avoids nightshades, one might think that it would be challenging to create chaat without the heat, right? However, just using some spices like ground ginger, dried mango powder (Amchur powder) and black salt can get your taste buds on a wild and enjoyable ride!
Fruit chaat is a very common and popular street food in India year-round, with the fruits changing according to season. Sweet and tart fruits lend best to a fruit chaat as they help in balancing the different flavor elements! I make fruit chaat using different combinations of fruits. This apple and kiwi chaat is one of my favorite snacks as it's a perfect balancing of the sweet with the tangy! This fruit chaat is also great as an appetizer to be served just before a meal!
Apple and Kiwi Chaat
Author:
Indira Pulliadath
Ingredients
1 apple, diced (any variety is fine, I like to use a less sweet variety like Gala or Macintosh)
2 kiwis, peeled and diced
¼ teaspoon black salt
¼ teaspoon ground ginger
¼ teaspoon dried mango powder (optional; or you can use 1 teaspoon of fresh lime juice instead)
Instructions
Add the diced fruits into a serving bowl or platter.
In a small mixing bowl or a plate, add the black salt, ground ginger and dried mango powder (if adding) and mix well using a spoon.
Sprinkle the spice mix on top of the diced fruits and toss to mix well. Serve immediately!