This post contains affiliate links. Click here to see what that means!
In order to provide the free resources here on the Autoimmune Wellness website and social media channels, we may accept a commission or other support for our endorsement, recommendation, or link to a product or service in this post.
That being said, we only promote authors, products, and services that we use ourselves and wholeheartedly stand by. To learn more about how we earn money here on Autoimmune Wellness, head on over to our Promotional Policy.
I've raved before about how much I love basil. And I think I say that every time I publish a recipe with basil in it. But I usually use it in unexpected, sweet applications – ice cream and beverages being two of my favorite.
So it was long past time I embrace probably its most popular preparation, pesto! Basil Pesto Chicken with Roasted Veggies is a ridiculously satisfying meal that takes hardly any effort at all (especially if you can get pre-cut vegetables). Enjoy!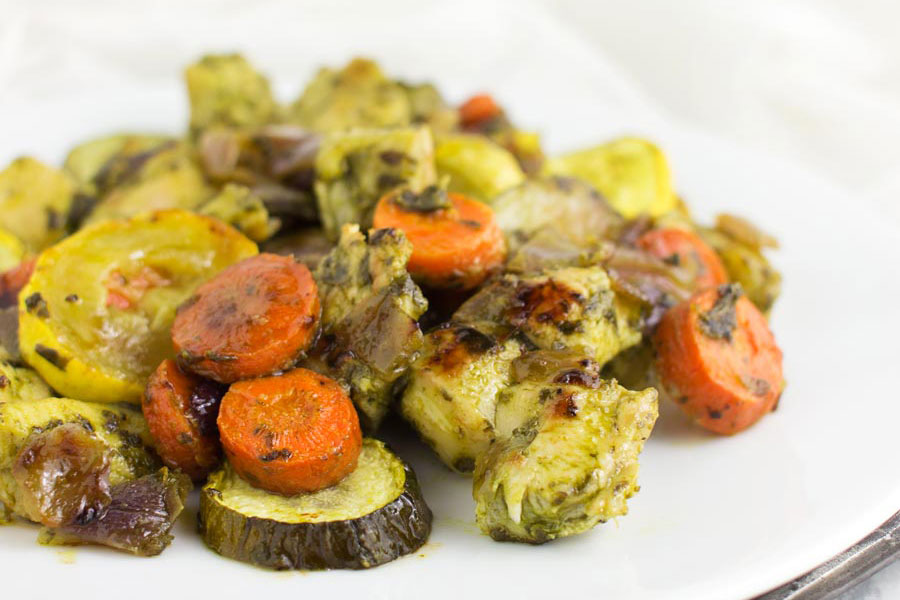 Basil Pesto Chicken with Roasted Veggies
Instructions
Preheat the oven to 400 degrees F and line a rimmed baking sheet with parchment paper. Alternatively, grease it with coconut oil.
Combine the basil, oil, lemon juice, mint, and garlic in a blender and process until smooth. Add salt to taste.
In a large bowl, toss the chicken, carrots, zucchinis, squash, and onion with the pesto. Spread the mixture on the baking sheet in an even layer.
Bake 30-40 minutes or until the chicken is cooked through, stirring once halfway through.