This post contains affiliate links. Click here to see what that means!
In order to support our blogging activities, we may receive monetary compensation or other types or remuneration for our endorsement, recommendation, testimonial, and/or link to any products or services from this blog.
That being said, we only promote authors, products, and services that we wholeheartedly stand by!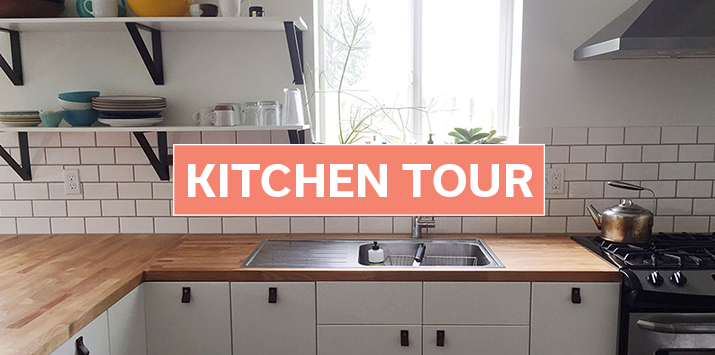 AIP Kitchen Tour is a monthly feature in which we profile a member of the AIP community and their kitchen setup in hopes that it will further inspire us to get our kitchens organized and set up for success! We've interviewed folks who are making the AIP lifestyle a reality in everything from college dorms and small city apartments, to large households with non-AIP family members, and everything in between. Through these interviews, we hope to share how they make it happen across a variety of budgets and living situations, and give the community a wealth of inspiration. Read more Kitchen Tours here!
Name: Kristin Hatting
Location: Minneapolis, Minnesota, USA
AI Disease: Rheumatoid arthritis

How long have you been eating AIP? About 3.5 years
Have you successfully reintroduced any foods?
I have occasionally reintroduced some foods in moderation including eggs, a few nuts, as well as grass-fed cheese and butter. I consistently listen to my body and analyze how it feels, noting any triggers related to food.
How has the AIP changed your life?
I have come to the realization that I can offer hope to others experiencing challenges similar to what I have endured. Starting a blog is one way that has helped me to heal. In addition, it has given me the opportunity to connect and share some of my understanding, as well as recipes, with others.
Size of your AIP kitchen: 12 feet x 17 feet
Favorite thing about your kitchen: 
My favorite thing about the kitchen is the layout and functionality of the space. Opening it up to the rest of the house helped to make the room more open and inviting . Rather than feel closed off and isolated from others when cooking and entertaining, this allows for more human interactions which is important for the healing process. As an interior designer, I considered every detail that would make the kitchen an efficient space for cooking.
Least favorite thing about your kitchen:
Although the refrigerator is quite large, it seems there is still never enough space to hold all of the fresh produce.
Are there any cheap gadgets or little tools that you have found make AIP easier?
Because I love using fresh lemons and limes, I frequently use a hand-held citrus juicer to squeeze the fresh juice into my recipes or drinks.
What is the biggest thing that changed in your kitchen setup when you adopted the AIP?
Prior to adopting the AIP lifestyle, the pantry stored more snacks, canned goods and baking products. It now holds more spices, kitchen gadgets and small appliances.
If someone was just starting to invest in some useful but more expensive AIP kitchen tools, which one would you tell them to buy first?
I would highly recommend investing in a KitchenAid stand mixer, as it is very versatile and can be used in so many ways. There are a number of KitchenAid attachments that can gradually be added to your collection of kitchen gadgets, which can help make cooking easier, more efficient and fun. A few of my favorite attachments are the food processor with dicer, meat grinder and vegetable spiralizer.
Are there any tricks you have learned to make AIP work in your space?
Donating or giving away foods that I no longer eat has helped make AIP work. Efficiency of the space and having the right tools helps make the job of cooking easier as well.
How do you deal with food for family members that are not AIP?
I have tried to gradually introduce new foods, as well as recipes that are created as closely to the traditional versions. Purchasing foods that have fewer ingredients and trying to make as many meals from scratch also makes a difference.
Are there any tools or appliances that you've stopped using now that your diet has changed?
I have stopped using the toaster! I still have it, but really have no clue what to do with it!
What are your favorite meals to batch cook?
Soup! I love to create large batches of different types of soup and freeze them in single servings for lunches. They are so easy to pull out in the morning for a quick lunch option. As an added bonus, they are packed full of vegetables and nutritious bone broth. Having a variety of different soups never makes my lunches boring.
What are your favorite AIP and Paleo cookbooks?
I have a couple of favorite cookbooks. Danielle Walker's first cookbook, Against All Grain, initially introduced me to this alternate paleo lifestyle and gave me so much hope when I was first diagnosed. My favorite AIP cookbook is The Healing Kitchen by Alaena Haber and Dr. Sarah Ballentine.
Do you have any tips for those starting an elimination diet and setting up their kitchens for the first time?
I transitioned slowly by removing certain foods one at a time. I first eliminated gluten and started feeling so much better that I wanted to see how other foods affected me. Therefore, one by one, I would remove grains, dairy, soy, legumes, nightshades and eggs.
If you'd like to learn more about Kristin's AIP journey, you can follow her on Instagram or check out her website, Wholesome Within.
Would you like to be featured in an AIP Kitchen Tour? We feature members of the community who are willing to share the real spaces where they cook, as well as their stories of transitioning to this lifestyle. If you are interested, fill out our interest form!