This post contains affiliate links. Click here to see what that means!
In order to provide the free resources here on the Autoimmune Wellness website and social media channels, we may accept a commission or other support for our endorsement, recommendation, or link to a product or service in this post.
That being said, we only promote authors, products, and services that we use ourselves and wholeheartedly stand by. To learn more about how we earn money here on Autoimmune Wellness, head on over to our Promotional Policy.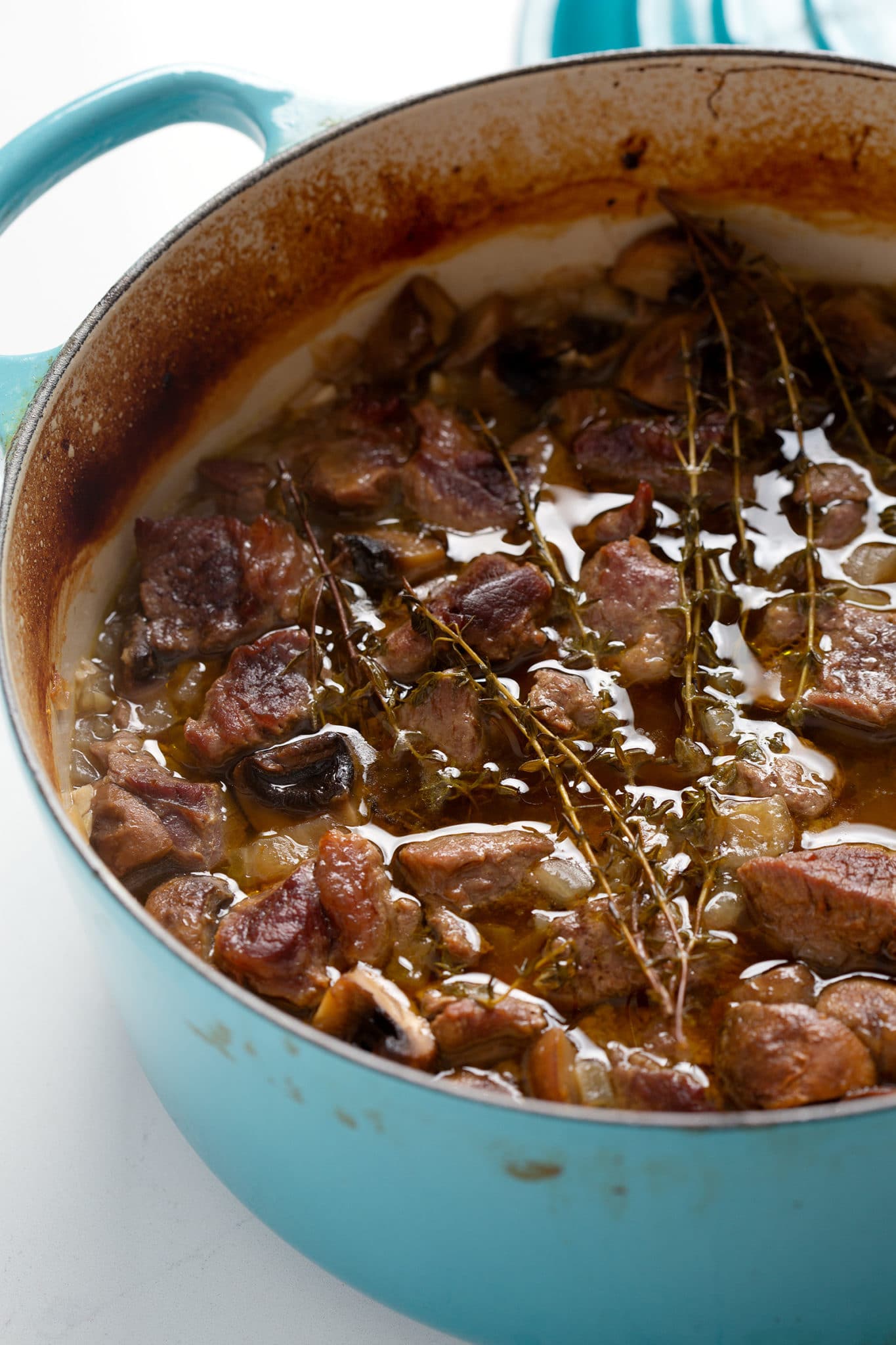 Grab a bowl of this comforting Braised Beef and Mushrooms. It's thick like a stew and full of flavor like you'd expect from a slow cooked dish. And the beef is so tender that it just falls apart.
This dish is rather easy to put together. Most of your active cooking time is in the prepping and chopping of the ingredients. Most of the cook time is you just waiting and salivating while the pot is in the oven. It's worth the wait for that fork tender beef though.
To make your prep time even shorter, try buying pre chopped mire poix (combination of onion, celery, and carrots) from the grocery store. You can also buy pre-sliced mushrooms even though the recipe calls for quartered. I just like having chunks of mushrooms to mimic the shape of the beef, but sliced mushrooms would be a fine substitute. Make sure to get stew meat that is already cut into squares. That will also save you some time.
If you liked this Braised Beef and Mushrooms recipe, then you'll love these AIP beef recipes.
Braised Beef and Mushrooms
Ingredients
2 pounds stew meat, cut into 1-in squares
2 tablespoons extra virgin olive oil
Salt
1 onion, finely diced
1 celery, finely diced
1 carrots, peeled and finely diced
2 bay leaves
4 garlic cloves, smashed
2 tablespoons arrowroot starch
16 oz cremini mushrooms, quartered
3 cups bone broth
3 sprigs of fresh thyme
Instructions
Preheat oven to 350 degrees F.
Pat dry meat and generously salt all sides.
In a Dutch oven, heat oil until shimmering. In small batches, brown all sides of the meat. About 2 minutes per side. Set meat aside.
Reduce heat to medium low and add onions, celery carrots and bay leaves. Sauté until carrots and onions are just tender, about 5 minutes. Add garlic and cook for 2 more minutes.
Sprinkle the mixture with flour and stir until absorbed. Slowly stir in the broth and add the mushrooms.
Place the meat back to the pan in a single layer. The meat should sit just above liquid line. For a good braise, you don't want it fully immersed in the liquid. Tuck the thyme between pieces of meat and bring the dish to boil. Cover and place in preheated oven. Cook for 2 ½ -3 hours. Meat should gently fall apart with a fork when done.
Serve in over a bed of mashed cauliflower or a baked sweet potato.