This post contains affiliate links. Click here to see what that means!
In order to support our blogging activities, we may receive monetary compensation or other types or remuneration for our endorsement, recommendation, testimonial, and/or link to any products or services from this blog.
That being said, we only promote authors, products, and services that we wholeheartedly stand by!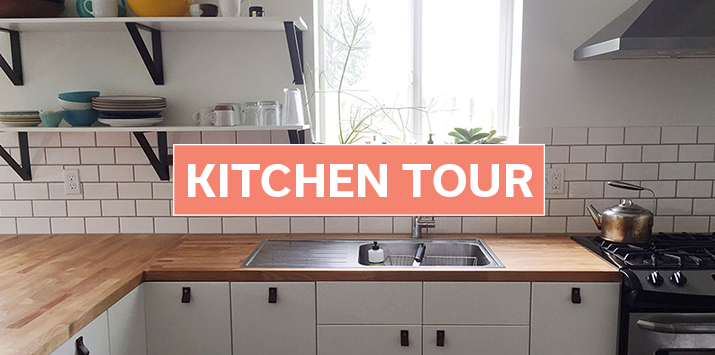 AIP Kitchen Tour is a monthly feature in which we profile a member of the AIP community and their kitchen setup in hopes that it will further inspire us to get our kitchens organized and set up for success! We've interviewed folks who are making the AIP lifestyle a reality in everything from college dorms and small city apartments, to large households with non-AIP family members, and everything in between. Through these interviews, we hope to share how they make it happen across a variety of budgets and living situations, and give the community a wealth of inspiration. Read more Kitchen Tours here!
Name: Cristina Curp
Location: Alexandria, VA
Preferred pronouns: She/her
AI disease: Hidradenitis Suppurativa, Psoriasis, possible RA
How long have you been eating AIP? I ate AIP for 6 months during my first elimination. I've done 4 month long AIP resets since then.
Have you successfully reintroduced any foods? I still eat nightshade-free paleo 99% of the time, I have been able to reintroduce eggs, coffee, chocolate, nuts and seeds, and seed-based spices without issue. Butter and ghee are safe too. Cheese and other milk products are on my "worth it list' – which to me, means worth it in small amounts, occasionally.
I can tolerate grains and legumes in small amounts as well, so I usually just eat them if I'm out, traveling, etc. I know that I just feel better overall when I stick to a paleo template. Nightshades are my biggest trigger food, so I never eat them.
How has the AIP changed your life?
I was able to put the symptoms of my HS in remission. This was huge. It takes ongoing efforts to stay in remission and control other symptoms like fatigue or joint pain. However, it's much easier now than it ever was before. My body is so much healthier than my worst day now is still better than my best day before AIP.
Size of your AIP kitchen: It's about 15 x 8. It's in an open space, but the kitchen itself is small.
Favorite thing about your kitchen: 
We're a military family, so we move a lot, and rent often. This house is not my favorite. What I love most about this kitchen is that it has a lot of windows. I really like the natural light in the area. I also like that it has a gas stove.
Least favorite thing about your kitchen: I have no storage space. I use several wire racks to make up for the lack of cabinets. Also, the cabinets are old so they droop. I've even had one collapse on me! Also, a major shortage of counter space.
Are there any cheap gadgets or little tools that you have found make AIP easier?
I have these silicone lids that fit over opened coconut milk cans. Those are a lifesaver.
What is the biggest thing that changed in your kitchen setup when you adopted the AIP?
I wasn't in this kitchen when I first started AIP, but even in my Hawaii house, I don't think the setup changed too much, it was more the ingredients and pantry items. I was a restaurant chef before, so I've always cooked a lot and cooked from scratch.
If someone was just starting to invest in some useful but more expensive kitchen tools, which one would you tell them to buy first?
A Vitamix or Blendtec. A good high-powered blender is hands down the most used tool since going AIP. From blending sauces to pulverizing flours or maple sugar, to making soups. It's amazing.
Are there any tricks you have learned to make AIP work in your space?
I use a lot of refillable containers. Cooking AIP means having a lot of variety in ingredients. You often buy a specialty item for a recipe. I'm an out-of-sight, out-of-mind person, so for me, having all my flours, seasonings, etc in containers that I can see helps me keep an inventory of what I have so I don't buy duplicates and it also inspires me to create new things.
How do you deal with food for family members that are not AIP?
They eat my food plus rice. That's pretty much how we did it. My son is gluten-free all the time, and my husband packs his own lunch. When I cook to feed the family they eat what I eat, plus… whatever side they want.
Are there any tools or appliances that you've stopped using now that your diet has changed?
I don't use my stand mixer as much. When I was first AIP I used my spiralizer a lot and my food processor to make cauliflower rice. But now they sell spiralized zucchini and riced cauliflower almost anywhere! It's incredible.
What are your favorite meals to batch cook? I make a lot of meatballs or burger patties with any kind of ground protein. I also do a lot of crispy Brussels sprouts and broccoli. Always have a sauce on hand.

What are your favorite AIP and Paleo cookbooks? Well, both my cookbooks have over 90 AIP compliant recipes or recipes with modifications, not all the recipes are AIP though, but I'm biased, so I'll say Made Whole and Made Whole Made Simple. I also love how Alana cooks, so The Healing Kitchen. More recently I've gotten AIP Indian Fusion by Indira Pulliadatch and it's awesome!
Do you have any tips for those starting an elimination diet and setting up their AIP kitchens for the first time?
Get rid of the old pantry items – the flours, baking powder with corn or potato starch, get rid of vegetable-based oils, and soy sauce with gluten. Don't keep them around. They will clutter your kitchen and I guarantee, you'll never go back to them.
You can connect with Cristina on her website, The Castaway Kitchen and on Instagram, Facebook or YouTube.
Would you like to be featured in an AIP Kitchen Tour? We feature members of the community who are willing to share the real spaces where they cook, as well as their stories of transitioning to this lifestyle. If you are interested, fill out our interest form!