This post contains affiliate links. Click here to see what that means!
In order to provide the free resources here on the Autoimmune Wellness website and social media channels, we may accept a commission or other support for our endorsement, recommendation, or link to a product or service in this post.
That being said, we only promote authors, products, and services that we use ourselves and wholeheartedly stand by. To learn more about how we earn money here on Autoimmune Wellness, head on over to our Promotional Policy.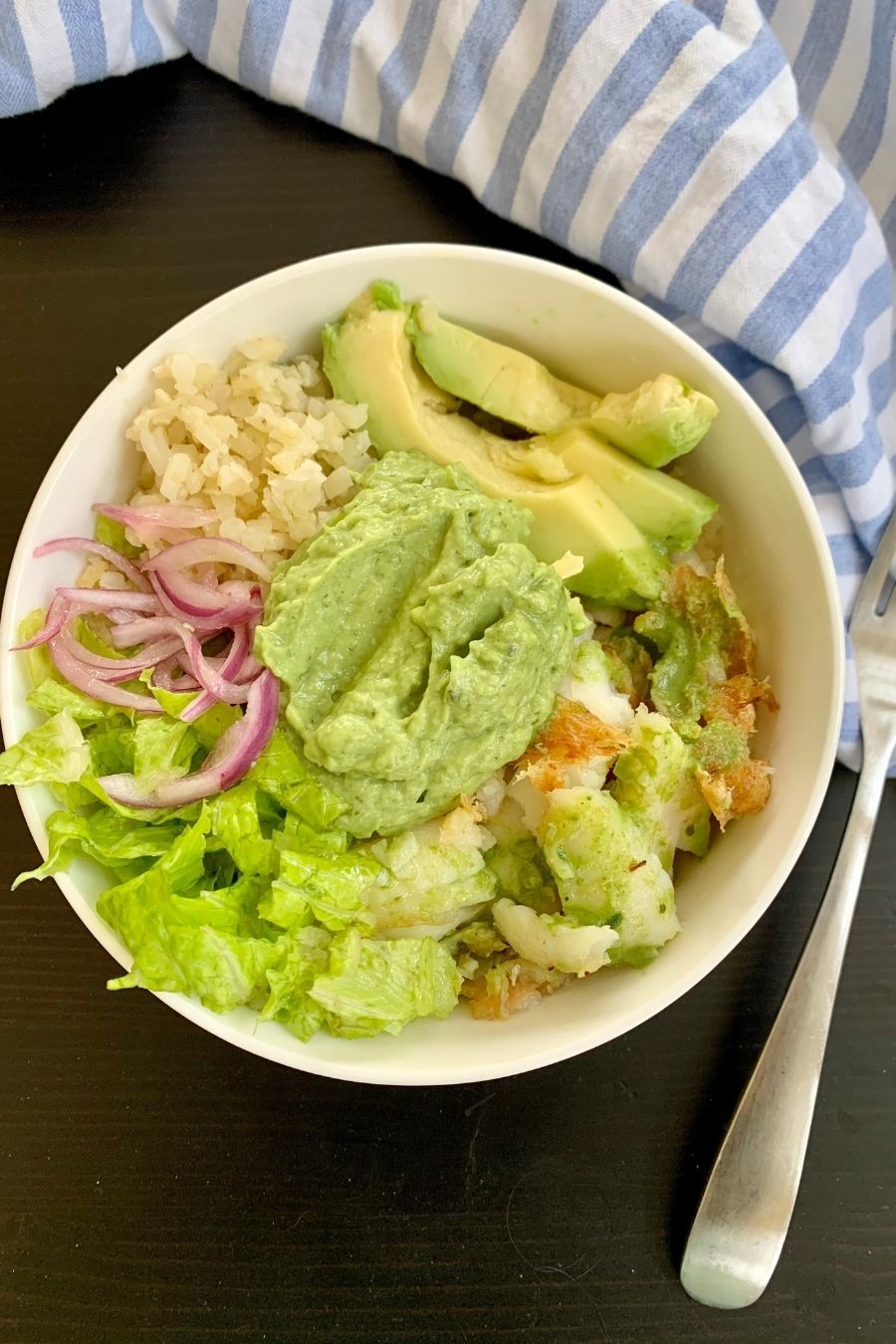 Fish tacos are a favorite in our house. I make homemade grain-free cassava tortillas that are AIP compliant and then add all the other components of a satisfying taco: shredded lettuce, pickled onions and guacamole! This past week when I was browsing Pinterest, I came across a recipe for "spicy fish taco bowls" and I immediately thought to myself, "Why did I never think of this?"
The opportunity to try them came quickly enough when one weeknight my husband suggested fish tacos for dinner and we were out of my homemade cassava tortillas! Well, let's do fish taco bowls I suggested. This recipe came about pretty quickly and now I love to make it frequently.
Even though AIP does not allow for a lot of the typical spices used in seasoning tacos like cumin and chilies, this taco bowl has loads of flavor from the cilantro, garlic and lime! I also add a little bit of ganthoda powder (which is AIP compliant!) for an additional spicy kick. However, if you cannot source it easily, you can just substitute it with ground ginger instead. The recipe also works well for meal prep as you can prepare the cauliflower rice, chop the veggies and also prepare the sauce ahead of time. Then all you need to do is to quickly pan fry your fish and make a quick guacamole (or just add sliced avocados!) and you can have a delicious fish taco bowl ready in no time! Yum!
Fish Taco Bowl
Author:
Indira Pulliadath
Ingredients
For the cauliflower rice:
1 tablespoon avocado oil
2 cups fresh or frozen cauliflower rice
¼ teaspoon sea salt


For the cilantro lime dressing:
½ cup fresh cilantro, chopped
1 tablespoon lime juice (or lemon juice)
2 tablespoon extra virgin olive oil
1 tablespoon coconut milk
⅛ teaspoon sea salt


For the guacamole:
1 ripe avocado
1 tablespoon lime juice (or lemon juice)
¼ teaspoon sea salt
1 tablespoon finely chopped red onion
1 tablespoon extra virgin olive oil


For the pickled onions:
½ of a red onion thinly sliced
¼ teaspoon sea salt
1 tablespoon apple cider vinegar
1 tablespoon avocado or extra virgin olive oil


Cooking the fish:
Two 4-ounce filets of flounder or any other white fish, thawed to room temperature
¼ teaspoon sea salt
¼ teaspoon garlic powder
¼ teaspoon ganthoda powder (or you can use ground ginger)
¼ cup avocado oil


For assembling the tacos:
shredded lettuce
sliced avocados
picked red onions
Instructions
Cooking the cauliflower rice:
Heat a stainless steel skillet and add the oil. When hot, add the cauliflower rice and salt and stir to mix. Then cover the pan with a lid and cook for about 5 minutes (if using fresh cauliflower rice) or about 10 minutes (if using frozen cauliflower rice) until the rice is cooked but still has a bite to it. Turn the heat off and keep aside.
Making the cilantro lime dressing:
Add all the ingredients into a food processor and blend until you get a liquid consistency. Keep aside.
For the guacamole:
Add all the ingredients to a large bowl and mash using a potato masher (or you can use a mortar and pestle. Keep aside.
For making the pickled onions:
Mix all the ingredients in a small bowl and cover and let sit for a few minutes.
Cooking the fish:
Pat dry the fish filets using paper towels. Sprinkle the salt, garlic powder and ganthoda powder (or ground ginger) on both sides of the fish.
Heat a stainless steel skillet on medium heat for 5 minutes until it is very hot. Now add the avocado oil and when the oil is hot, place the two fish filets gently in the oil.
Cook for about 4 minutes on one side (until it gets crisp on the bottom and comes off easily) and flip and cook for about 2 to 3 minutes on the other side. Transfer cooked fish to a plate. Using a knife chop the cooked fish into bite size pieces. Keep aside.
Assembling the taco bowls:
In two large serving bowls, add 1 cup of the cooked cauliflower rice each, then add some shredded lettuce, sliced avocados and pickled onions. Next place the fish equally in the two bowls. Drizzle the cilantro sauce on top of the fish. Place a dollop of guacamole in each bowl and also add the pickled onions on top. Serve immediately!