This post contains affiliate links. Click here to see what that means!
In order to provide the free resources here on the Autoimmune Wellness website and social media channels, we may accept a commission or other support for our endorsement, recommendation, or link to a product or service in this post.
That being said, we only promote authors, products, and services that we use ourselves and wholeheartedly stand by. To learn more about how we earn money here on Autoimmune Wellness, head on over to our Promotional Policy.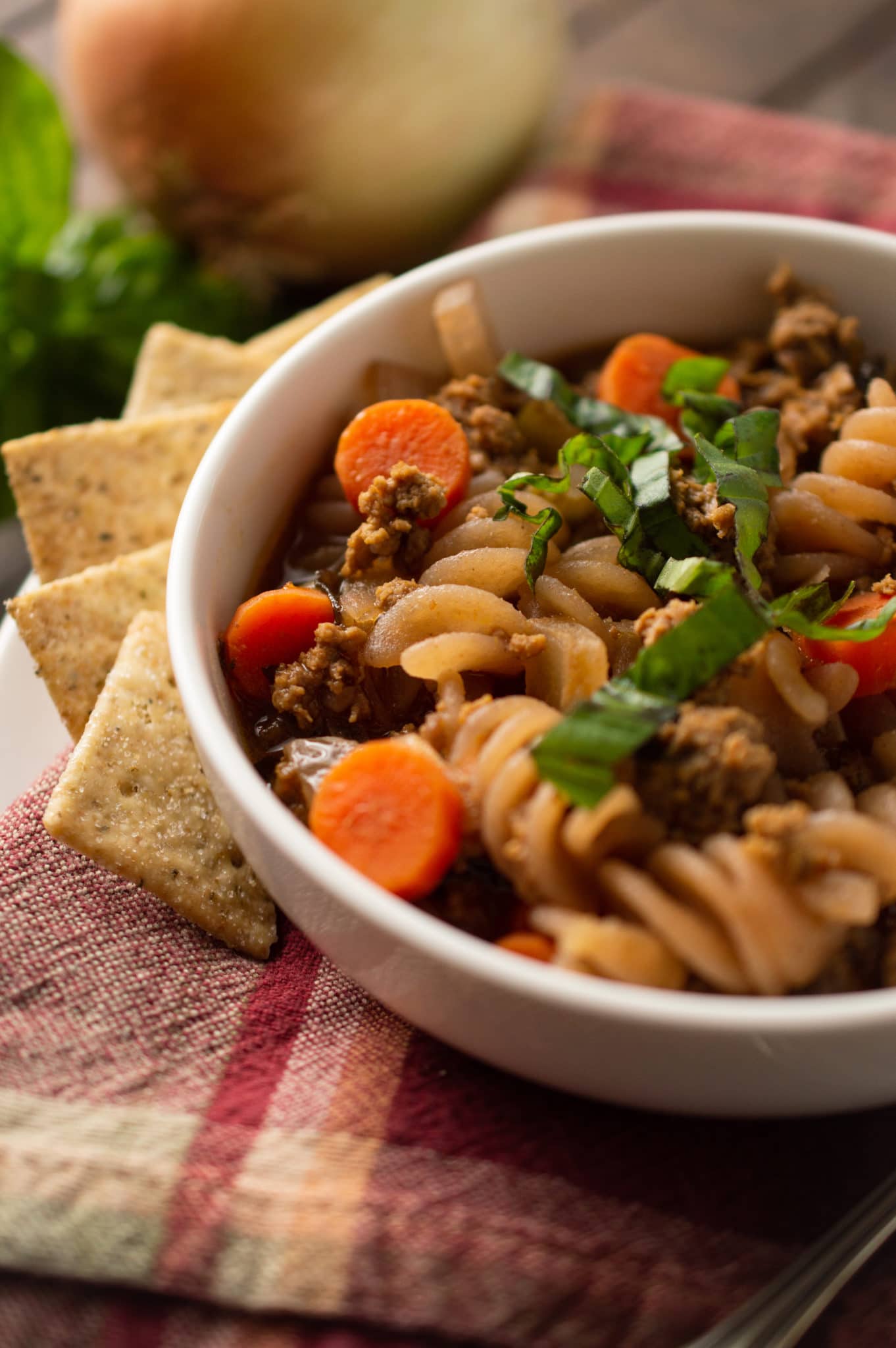 I ask you, when there's a nip in the air, is there anything more wonderful than a warming bowl of soup?  If you've been around me for a while, you know that I'm a huge soup fan.  It's maybe one of my favorite one-dish meals.  I even have it for breakfast sometimes!
My first experience with hamburger soup was on a camping trip.  My mother-in-law made hamburger soup on our little camp stove.  As I recall, there was lots of red wine that evening; in the soup, and in us!  She put the raw ground beef and uncooked pasta noodles in the pot with the vegetables, and everything just sort of cooked together.  It was kind of magical, eating this simple, delicious, and warming soup around the campfire as we sipped wine.  Good times.
Fast forward, decades later.  No more wine.  No more pasta.  But WAIT!  There is now an AIP pasta on the market.  THIS IS NOT A DRILL, PEOPLE.  Jovial, a company that makes gluten free pastas, has come out with cassava pasta.  Real pasta!  So that's the fusilli pasta in this recipe.
May this soup warm and nourish you, and bring to mind special times with family.
Hamburger Soup
Author:
Wendi Washington-Hunt
Instructions
In a large pot over medium high heat, brown the hamburger with the onion, carrot, celery, and salt.
When hamburger is browned and onions are translucent, add pumpkin, beet, vinegar, and basil. Stir to combine. Add broth and pasta. Stir again.
Reduce heat to medium low. Cover and simmer for 15 minutes. Taste for salt, and adjust, if desired. Serve with some AIP-friendly crackers and fresh fruit.