This post contains affiliate links. Click here to see what that means!
In order to support our blogging activities, we may receive monetary compensation or other types or remuneration for our endorsement, recommendation, testimonial, and/or link to any products or services from this blog.
That being said, we only promote authors, products, and services that we wholeheartedly stand by!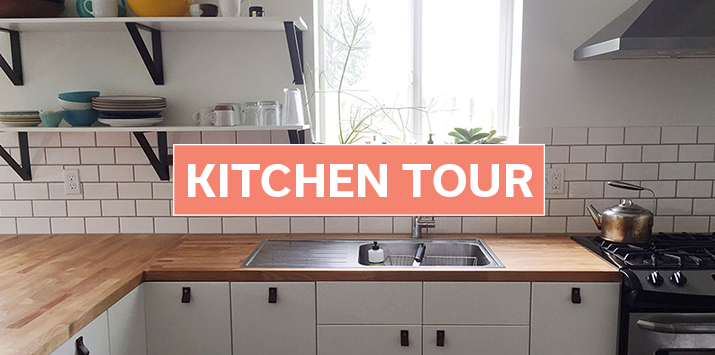 AIP Kitchen Tour is a monthly feature in which we profile a member of the AIP community and their kitchen setup in hopes that it will further inspire us to get our kitchens organized and set up for success! We've interviewed folks who are making the AIP lifestyle a reality in everything from college dorms and small city apartments, to large households with non-AIP family members, and everything in between. Through these interviews, we hope to share how they make it happen across a variety of budgets and living situations, and give the community a wealth of inspiration. Read more Kitchen Tours here!
Name: Lili Wagner
Location: suburb of Las Vegas, NV
AI diseases: ulcerative colitis, seronegative spondyloarthropathy
How long have you been eating AIP?
Off and on since November 2015.
Have you successfully reintroduced any foods? 
I've been able to reintroduce ghee, butter, eggs, peas, green beans, goat cheese, parmesan, cream cheese, hot dogs, and most spices except for nightshades. I can have nuts, chocolate, and gluten in very limited amounts, I also found a way to eat avocados. I get an oral allergy to them, however, if I bake them or put lime/lemon juice on them, I can eat them without any issues.
How has the AIP changed your life?
It helped me get off of my medications, take more me time, incorporate more self-care, and get into cooking more. I still don't like cooking too much so I had to come up with simple and easy recipes that are fun and delicious to make.
Size of your AIP kitchen: About 275 square feet

Favorite thing about your kitchen: 
The blingy backsplash for sure. It makes the kitchen look fun and lively. We live in the Las Vegas area after all. 🙂
Least favorite thing about your kitchen:
Unfortunately, our kitchen didn't come with a personal chef. 🙂 The faucet needs to be changed in the near future. Other than that, we love our kitchen.
Are there any cheap gadgets or little tools that you have found make AIP easier?
One of my favorites is the digital meat thermometer that also has a magnet, so it stays on the side of the fridge. It really helps when cooking meats to get to the right temperature. Another one is my favorite chef knife. So important to have a good knife. I also use a lot of fun and cute items, such as divided plates, a Loch Ness Monster soup ladle, a tiny spoon for small servings of tigernut or coconut butter, a boat-looking butter dish, or a baby Yoda (Grogu) bowl. I also love my spiralizer. Not only can you make zoodles with it, it also gives you a great forearm workout.
What is the biggest thing that changed in your kitchen setup when you adopted the AIP?
When I first started AIP we were living in a condo and the kitchen was much smaller, so the challenge was trying to organize and store my AIP foods. Currently, in our new home, the kitchen and pantry are bigger (we didn't have a pantry in the condo), so it makes if much easier to store and organize the various foods. The main thing that I adopted overall was to keep my AIP food in it's own area in the pantry.
If someone was just starting to invest in some useful but more expensive kitchen tools, which one would you tell them to buy first?
Two of my best investments were the Instant Pot for sure and a food processor. You can do so much with just these two. And when you're first starting out making your own bone broth is key. The Instant Pot makes that process a lot faster and easier. And, if you're like me, and don't want to hang out too long by the stove, just dump your ingredients in the Instant Pot and let it do the cooking for you.
One thing I would advise is to not get things you're not going to use. I bought a dutch oven that I've only used 3 times in the last 6 years. It's beautiful but it's heavy and washing that isn't fun when you're in pain. We also used to have a cast-iron skillet that we got rid of because again, it's heavy, and cleaning it isn't easy. My main rule for the kitchen and kitchen tools is to keep it simple.
Are there any tricks you have learned to make AIP work in your space?
I think that organization is key and also not to bring in the non-nutrient dense tempting foods into the house. There's a lot of mental gymnastics to do to steer away from those. Also using non-clear storage bins helps to contain your choices in that specific bin or prevent you from seeing tempting foods.
When it comes to cooking or baking in the kitchen, first, I tell everyone to get out of the kitchen. I like to cook alone, it's my time. Then I like to set the mood by wearing my apron and playing music. I like to be organized and clean when I cook/bake. I'll set up the items and ingredients, Then I visualize my game plan, read the recipe a few times (if I use one), do the prep work, and start cooking or baking. I usually prefer to bake or roast vs cooking on the stovetop. Making your kitchen space your own as much as possible really helps. I also love it when my husband grills, that way I get a break from doing the work.
How do you deal with food for family members that are not AIP?
My hubby does keto and my mom eats mostly Mediterranean, so we can mix a little bit. Most of the time we eat on our own. Once or twice a week we'll cook and share a meal together. We each have our own food bins in the pantry and in the fridge. I have my own couple of shelves inside the fridge door and we just share the things we can all eat and skip those we can't. Over time, you just learn to get the hang of it.
Are there any tools or appliances that you've stopped using now that your diet has changed?
Not really. I use them all as needed depending on what I'm making.
What are your favorite meals to batch cook?
Burgers on the grill. My husband usually does the grilling that's why it's my favorite because I don't have to do the work. The burgers that we make have that special blend of organ meat in them, so we can all get some organ meats in our diet. It's the best way to eat organ meats, you can't taste it, especially when you add bacon to the meat too. Very tasty burgers. My other favorite meals to batch cook are pesto salmon, roasted veggies, and any meat and veggie dish in a skillet.
What are your favorite AIP and Paleo cookbooks?:
There are two e-books that I really like: 30-Minute Meals for the Paleo AIP, and Paleo AIP Instant Pot Cookbook. I also like using Unbound Wellness where I have a membership. They provide cooking videos, meal planning, and recipes. Most of the time I don't use recipes, you can't go wrong with skillet meat and veggie recipes. Simple and fast.
Do you have any tips for those starting an elimination diet and setting up their AIP kitchens for the first time?
Get your go-to ingredients out and handy. Organize how often you use your ingredients, utensils, and cookware. Try not to buy all pantry ingredients all at once and for spices, you don't use too often, don't buy the bulk size, they'll go bad. When I started AIP I went and bought everything and ended up throwing a lot of it away because I didn't use them. Usually, as humans, we tend to stick with some main recipes and ingredients that we use often. These would be good to have easier access to. I like using my DIY lazy Susan. It holds all the main spices we use regularly. All you need are two round baking tins and some marbles, all of which I got from the Dollar Tree. You can see it in the spice cabinet picture. For me, making my space, fun, organized, clean, and enjoyable makes it easy to stick to any lifestyle change.
Connect with Lili on her website, and on Instagram and Facebook. 
Would you like to be featured in an AIP Kitchen Tour? We feature members of the community who are willing to share the real spaces where they cook, as well as their stories of transitioning to this lifestyle. If you are interested, fill out our interest form!