This post contains affiliate links. Click here to see what that means!
In order to provide the free resources here on the Autoimmune Wellness website and social media channels, we may accept a commission or other support for our endorsement, recommendation, or link to a product or service in this post.
That being said, we only promote authors, products, and services that we use ourselves and wholeheartedly stand by. To learn more about how we earn money here on Autoimmune Wellness, head on over to our Promotional Policy.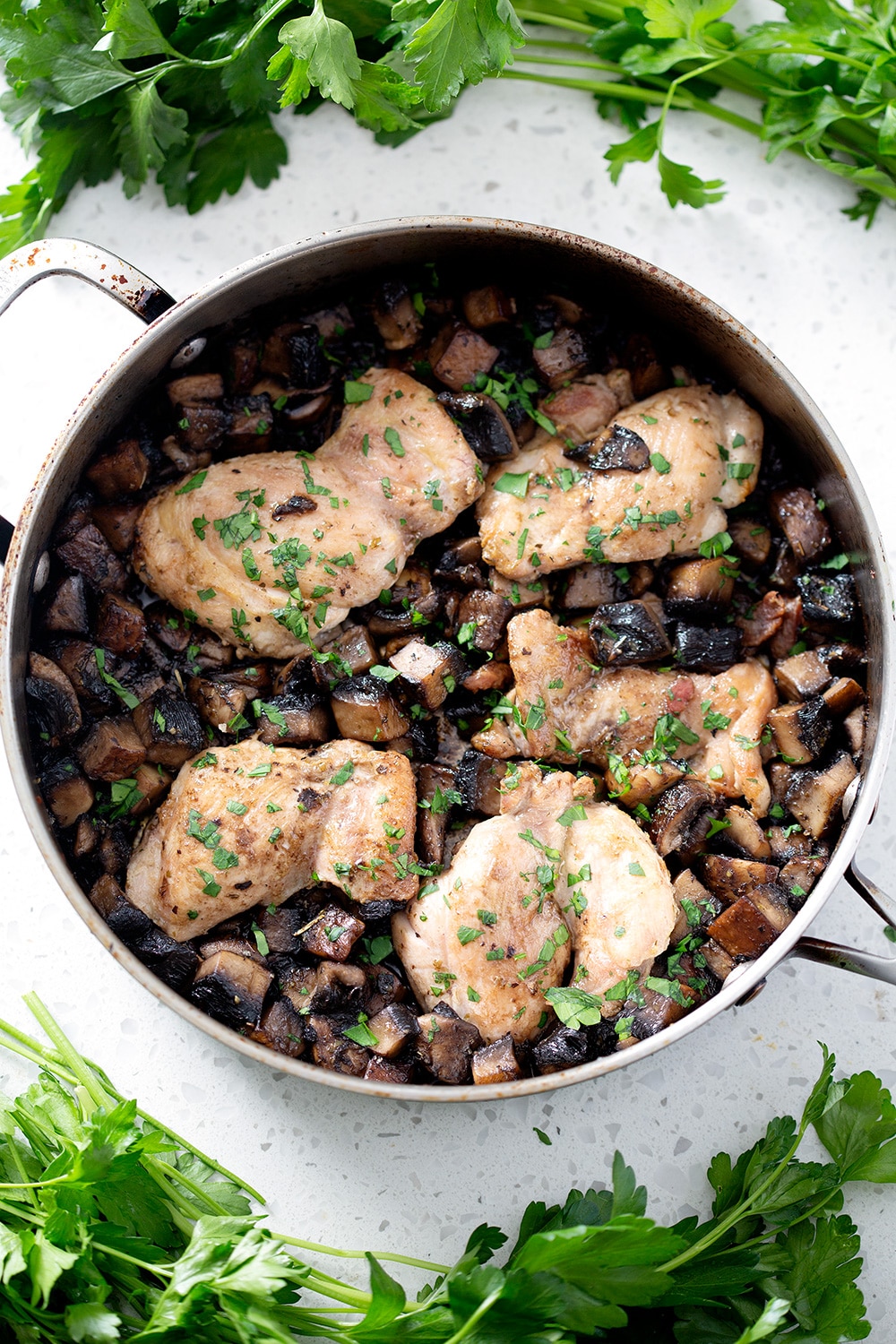 This one-pan Chicken and Mushroom recipe is not only quick but delicious. It's perfect for your family, any night of the week.
Are mushrooms AIP?
Yes. They are fungi, which is like a vegetable but in a group of their own. If you want to learn more about mushrooms and their health benefits, check out this article from The Paleo Mom.
Which spices can I have on AIP?
There are a lot of spices and herbs that are elimination-phase AIP compliant such as oregano, sage, thyme, rosemary etc. Italian seasonings are used in this recipe (here's a homemade recipe), but you could also use AIP Herbs de Provence (here's a homemade recipe) or your favorite spice blend.
If you're looking for other AIP Chicken Recipes, here's a few favorites.
AIP Chicken and Mushrooms
Ingredients
2 lbs chicken thighs
Salt
6 portobello mushrooms, chopped
1 teaspoon Italian seasoning or your favorite spice blend
½ teaspoon onion powder
½ teaspoon garlic powder
Instructions
Season the chicken thighs with salt. Coat the bottom of a frying pan (or cast-iron skillet) with olive oil over medium high heat.
Brown the chicken in the skillet, about 3 minutes on each side. Then remove them from the pan and set aside.
Add the mushrooms to the pan and let sauté while stirring occasionally, until they are cooked through, about 3 minutes.
Add the Italian seasonings, onion, garlic powder and ½ cup bone broth to the mushroom and bring to a boil.
Next add the chicken thighs back into the pan and finish cooking for another 3-5 minutes.
Remove from heat and serve with your favorite side dish.