This post contains affiliate links. Click here to see what that means!
In order to support our blogging activities, we may receive monetary compensation or other types or remuneration for our endorsement, recommendation, testimonial, and/or link to any products or services from this blog.
That being said, we only promote authors, products, and services that we wholeheartedly stand by!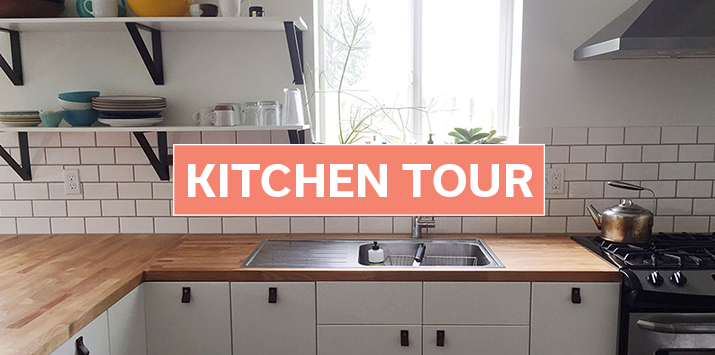 AIP Kitchen tour is a monthly feature where we profile someone who eats AIP and has agreed to share their kitchen setup with the community, in hopes that they can further inspire us to get our kitchens organized and set up for success! We've heard reports of people who are able to make AIP work in college dorms and small city apartments to large households with family members who eat otherwise, and everything in between. Through these interviews, we hope to share how they make it happen across a variety of budgets and living situations, and give the community a wealth of inspiration.
Name: Mary Cloos
Location: Portland, Oregon
AI Disease (if you feel like sharing): Hashimoto's Thyroiditis
How long have you been eating AIP? 20 months
Have you successfully reintroduced any foods?
Yes! Chocolate, seed based spices, coffee (I limit to one, 8-ounce cup, ~2x per week), ghee, nuts, eggs, white rice, small amounts of nightshade spices, like chili powder.
How has AIP changed your life?
Following AIP gave me back my life, and has made me a better cook! I had been trying to manage my Hashimoto's for 5+ years with natural desiccated thyroid meds and by eating relatively healthy, and "mostly" gluten-free. I felt "ok" at best, but never great and I was starting to decline again. The symptoms that were most problematic for me were: increased brain fog, daily headaches, irritability, joint pain and low energy. I had resisted significant diet change for so long, I finally confronted my own stubbornness and decided I owed it myself to fully commit to 100% compliance with an elimination diet for 30 days. Right around that time, I learned about AIP specifically and decided to follow that plan. I picked my official start date (right after my 46th birthday), and planned out all the menus, shopping lists, etc. The first 10 days were brutal, especially days 4-7. I remember wanting to scream, cry and throw a tantrum. My daily mantra at that point was "30 days, I can do anything for 30 days…" By Day 10, I turned a corner and felt a significant shift. About 95% of my complaints/symptoms resolved within 3 months. I knew without a doubt I was on the right path, and I haven't looked back. There have certainly been ebbs and flows, but overall I anticipate eating modified AIP from now on.
Size of your kitchen: ~100 square feet, galley style layout
Favorite thing about your kitchen: Large, single basin sink and the efficient layout.
Least favorite thing about your kitchen: Tile countertops (I dislike grout, though I love the color of the tile and the backsplash).
Are there any cheap gadgets or little tools that you have found make AIP easier?
GIR silicone spatula
(for getting every last drop of liver pate out of the
Vitamix
),
Enameled aluminum squeezer
(orange size, which works for oranges, lemons, limes);
Edgemaker Pro handheld knife sharpener
,
digital thermometer
.
What is the biggest thing that changed in your kitchen setup when you adopted AIP?
The biggest change was the amount of time I spent in the kitchen, which increased dramatically. I waited 6 weeks before I bought any new cookware or kitchen gadgets. Once I knew what I used most often, I got rid of some things and bought a few new pans. I also recently started phasing out all our plastic food storage containers and am moving toward glass or stainless steel.
If someone was just starting to invest in some useful, but more expensive kitchen tools, which one would you tell them to buy first?
Pressure cooker – I bought the Instant Pot and use it all the time now. I can make bone broth in an hour, and cook lots of other veggies. I also love my Vitamix.
Are there any tricks you have learned to make AIP work in your space?
I finally understand why so many chefs emphasize "mise en place" (to prep ahead and put everything out, ready to use before you start cooking). I have to be organized or things get too messy and clean-up is a big chore.
How do you deal with food for family members that is not AIP?
Not applicable – my wife knows if she wants to eat what I cook, that means it will be AIP (now with modifications). She's discovered she feels much better eating this way herself, so she doesn't mind.
Are there any tools or appliances you don't use, now that you have changed your diet?
Yes – my Kitchen Aid mixer. I've offered to loan it permanently to my neighbor who bakes. Also, the toaster.
What are your favorite meals to batch-cook?
Meat patties
,
pate
,
roasted veggies
and
soups
.
What are your favorite AIP and Paleo cookbooks?
The Autoimmune Paleo Cookbook
,

The Paleo Approach

,

The Ancestral Table

,

Nom Nom Paleo

,

The Paleo Foodie

,

Practical Paleo
. I'm also a big fan of
Good Meat
and various Cook's Illustrated cookbooks for learning cooking techniques.
What are your favorite AIP recipe blogs?
Grazed and Enthused
,
The Paleo Cajun Lady
,
A Clean Plate
, and
It's Me, Charlotte
.
Do you have any tips for those just starting out on an elimination diet and are just setting up their kitchen?
Give yourself plenty of time to prepare to start the diet, practically and emotionally. I took a month to get organized, find recipes/meal plans, clean out my cupboards and inventory what I had in my kitchen. I needed that time to get in the right psychological, head space about it, and remind myself it was my choice.
Though it may not seem kitchen related at first glance, I highly recommend having a good way to listen to music or podcasts in your kitchen. I love listening to all the Paleo and health podcasts I follow while I'm cooking. I learn a lot and it helps remind me why I'm doing what I'm doing.
Mary's kitchen.
The pantry–stocked full of coconut oil, coconut aminos, olive oil, canned fish, salt, and vinegars.
The spice drawer (tins found here).
Countertop fruit and vegetable storage.
Mary's cookbook collection.
The real food stash in Mary's freezer–offal, broth, and meat from her cow and pig share.
Would you like to be featured on the blog for AIP Kitchen Tour? We feature members of the community who are willing to share the real spaces where they cook as well as their stories of transitioning to this lifestyle. If you are interested, drop us a line using the contact form!